Day
Time
Event
Race
Duration
Sat April 13
11:00 am
Village Opens
12:00 pm
Trofeo Grande Vela
Velalonga Regatta
8:00 pm
Opening Ceremony
Sun April 14
11:30 am
Trofeo Grande Vela
Coast Parade
Mon April 15
AC45 Team Training
Tue April 16
AC45 Team Training
Wed April 17
AC45 Team Training
2:00 pm
Practice Racing
4:00 pm
Dock-in Show
4:30 pm
Meet the America's Cup Skippers
Thur. April 18
1:45 pm
Match Race Qualifier
Match for Seeds 8/9
13 min.
2:05 pm
Match Race Quarter-Finals 1 & 2
Match for Seeds 4/5, 3/6
Two Matches, 13 min. each
2:50 pm
Fleet Racing
Fleet Races 1 and 2
25 min. each
Fri. April 19

2:05 pm

Match Racing Championship
Quarter-Finals 3 & 4
Matches for Seeds 2/7, and Seed 1/Q1 Winner
Two Matches,
13 min. each
2:50 pm
Fleet Racing
Fleet Races 3 and 4
25 min. each
Sat. April 20
2:05 pm
Match Racing Championship
Semi-Finals
Two Match Races
13 min. each
2:50 pm
Fleet Racing
Fleet Races 5 and 6
25 min. each
Sun. April 21
2:40 pm
Naples Match Racing Championship
Final
One Match Race
20 min.
3:15 pm
Fleet Racing
Fleet Race 7
30 min.
| | |
| --- | --- |
| | Daily Events: |
| | |
| | |
Seeding:
Match Race Championship Brackets starting with the Thursday Qualifier and Quarter-Final matches are based on seeding from previous racing. All matches in Naples including the Final are single-elimination.
Match Racing Championship:
See Results Page for Match Race results and updated brackets.
Fleet Race Championship:
Scoring from fleet races 1 through 7 counts toward the final standings. All Races except the Final are weighted evenly. Points in the final Sunday race will be weighted up to 3.3x (for the Sunday winner) in calculating the Naples Fleet Race Champion. See Results page for details.
Important Note:
Start times, race durations, course locations, and other details are subject to change at the discretion of Race Management.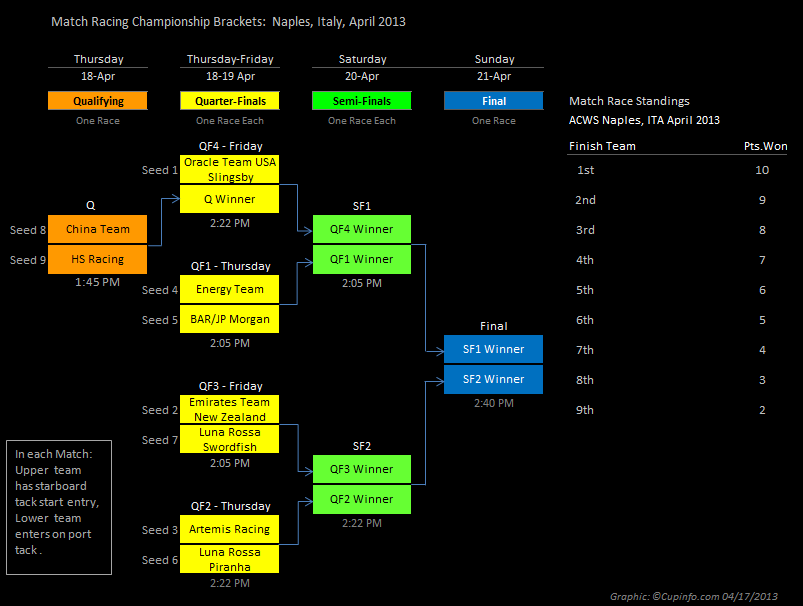 See Match Racing Results
The format for Naples 2013 is similar to that of San Francisco in August and October 2012, though with a simplified qualifying round due to a smaller number of teams. In Naples, HS Racing is added as a new ACWS team, Team Korea has withdrawn, and Oracle Team USA and Artemis are entering one ACWS team instead of two. Luna Rossa Piranha is entering two teams for this regatta.
---
Additional Links and Info:
Visit Official America's Cup website

---