Match Race Format: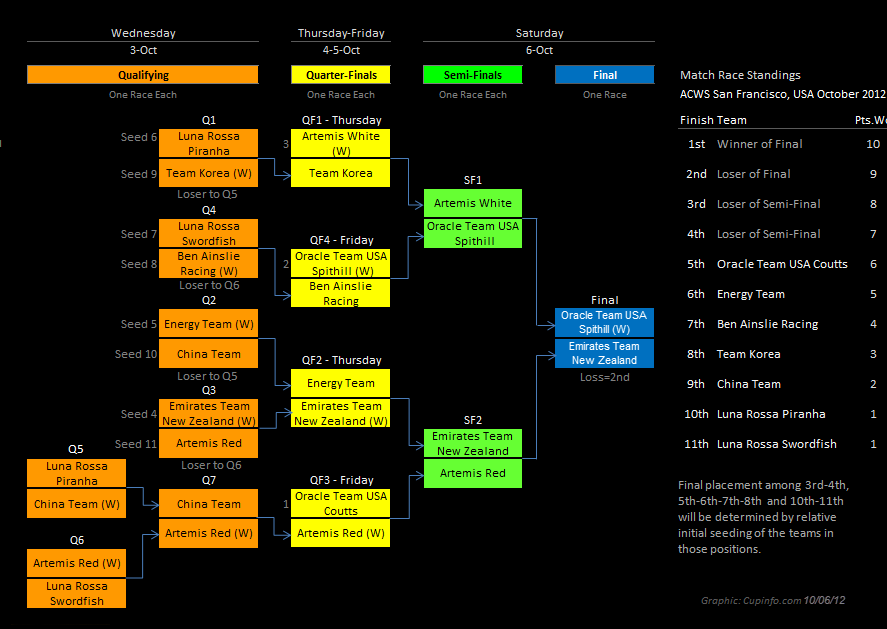 Matches for this regatta are one race per match.
The format for the match racing has been adjusted since August. The early Qualifying Round now gives the low seeds a second chance, known as a repechage round. Additionally, changing each match to a single race instead of best-of-three allows greater certainty of schedule for the organizers and teams. The Final Match Race has been moved to Saturday instead of Sunday just for the October ACWS to accommodate the logistics of sharing the water with the safety zone required for the airshow portion of Fleet Week.
The basic structure of a Qualifying Round followed by straight QF, SF, and Final bracket is consistent over the last few ACWS events. Most of the the recent changes to the format have involved the qualifying process. For this event, all matches will be a single race, but the qualifying round is not single-elimination.
From CupExperience: "Three teams are seeded into the quarterfinals: Coutts, Spithill (both Oracle boats) and Hutchinson (Artemis White). The other eight teams fight for the remaining five quarterfinal slots in qualifying races on Wednesday. Two quarterfinals on Thursday, two on Friday. Both semi-finals and finals on Saturday. All quarterfinals, semifinals and finals are one race, single elimination. Note that on Saturday, the semifinals are before the two fleet races and the finals are after the fleet racing."
Newport last June used an initial fleet race to seed the bracket, and Venice used two seeding fleet races. The August ACWS in San Francisco dropped that and seeded the teams according to Match Race Standings as does this event.
Note:
The schedule, start times, durations, course locations, race sequence, and other details are subject to change at any time without notice at the discretion of Race Management.