Race Report: Challenger Final Race 2
Auckland, February 12, 2009
---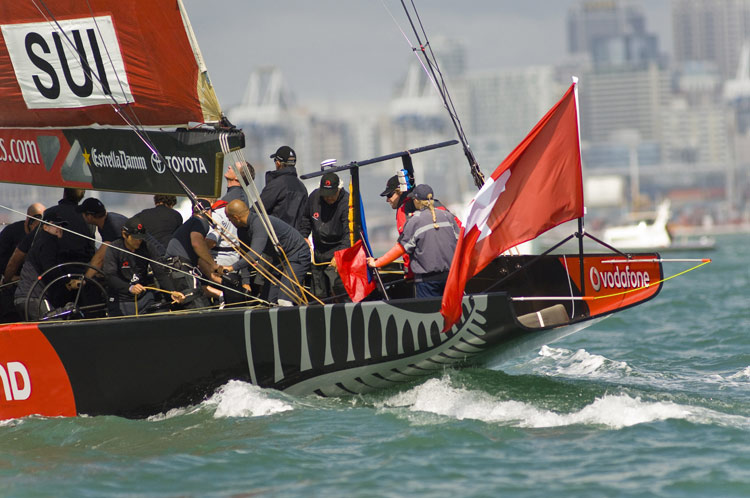 Alinghi flies protest flag (the small one, center), crossing the finish line in Race 2.
Photo:©2009 Paul Todd/OutsideImages.co.nz
---

Challenger Final:
Challenger Final Race Two BMW Oracle Racing (NZL 84) vs. Team Alinghi (NZL 92)
Eschewing the dial up, BMWOR gybes below Alinghi, with Russell Coutts chasing Ed Baird down the start box, keeping the Swiss boat to windward. But several circles later, the positions switch as the boats headed back to the line on starboard, BMWOR to windward of Alinghi. Somehow, Coutts gave Baird room to luff the American boat away at the committee boat, a master class in slamming the door at the line.
The deficit at the top mark was 28 seconds, a hole nearly impossible for the Americans to erase on a short course, especially with Alinghi getting further away on the run. There was no chance to make gains on mistakes either as an unpressured Alinghi executed a perfect early spinnaker drop and easy bottom mark rounding. By the time the boats reached the top, the delta was a whopping 58 seconds, building further to 1:07 at the finish.
Alinghi wins the Challenger Finals, 2-0.
Brad Butterworth, skipper, Team Alinghi:
"There were just not any passing lanes out there. Whoever crossed the line first was going to win today."
Russell Coutts, skipper, BMW Oracle Racing:
"We're left to reflect on what might have been. We got too complacent (at the finish yesterday). It was an elemental thing to spot but we missed that -- and it was a fatal error. As a team, you can't afford to miss something like that.
"That was our second bad start in this regatta, both against Alinghi. That's not a good thing to repeat. We just burned up too much time."
Also on this page: Louis Vuitton Pacific Series Press Releases Alinghi Press Release
---
Alinghi put out their red flag at the end of the race –- it turns out they were protesting the race format. The team prefers switching boats after each race to even any advantages, while race organizers, believing the boats to be equal and preferring to keep the time between races short, set up the regatta to keep each team to the same boat for the Final, as was listed in the Sailing Instructions.
Alinghi seems to prefer NZL-92; however, Emirates Team New Zealand's Dean Barker has said that he does not have a preference between the boats.
The protest was scheduled to be heard at 1:30 local time; after 25 minutes of conversation, the protest was adjourned until after the boat draw.
At the draw, boat teams were told that the winner of the draw had the choice between picking a boat or picking a side of entry at the start. Alinghi's name was drawn, leaving Brad Butterworth to choose NZL-92. Dean Barker choose yellow, the starboard entry. Listen to audio of the LVPS Draw (mp3)
-- Reporting by Diane Swintal for CupInfo/©2009 CupInfo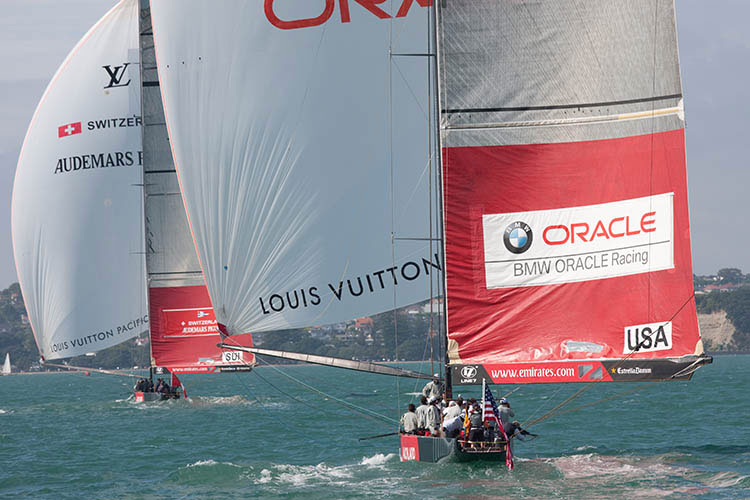 Alinghi beat BMW Origin handily in Race 2 to win the Challenger Final.
Photo:©2009 Gilles Martin-Raget/BMW Oracle

---