That's Sir Russell Coutts to you.
The three-time America's Cup winner will accept his new title, Knight of the British Empire, on Friday, August 16, in Wellington. But to his BMW Oracle Racing teammates, he's still just Russell, the glue that keeps this campaign on track to next February's match with Alinghi in giant multihulls to determine the winner of the 33rd America's Cup.
At a day-long celebration of team and campaign that included speeches by team owner Larry Ellison and actor Harrison Ford, and a look at the massive trimaran in action, Coutts talked about the boat, the campaign, recent court battles, and what the future might bring.
"We're in San Diego working the boat up and performing various tests on the boat to try and improve its performance and check its reliability for the racing conditions -- we expect that to continue through the middle of November, when we leave for the venue," said Coutts. "We're excited about this Challenge -- there're a lot of exciting things about this America's Cup in terms of sailing competition in these big giant multihulls. I think it's going to be something unique and will hopefully be spectacular."
Whether it is or is not spectacular will depend on the weather conditions in Alinghi's selected venue of Ras al-Khaimah, United Arab Emirates. Word is the area has notoriously light winds -- something that might suit Alinghi's catamaran far more than BMW Oracle's trimaran.
"Our position on the venue is that we do not believe that Ras al-Khaimah is Deed-compliant. Having said that, we really don't know anything about Ras al-Khaimah. We'll look at the conditions, see what kind of logistical support there is before we make a decision on whether or not we oppose that venue.
"Hopefully the conditions will be such that everyone will see how impressive these boats are. It will be a pity if we're sailing around in four to seven knots of wind. Obviously, both teams can adapt their boats to light winds if those are the conditions, but I think it would be a shame for the Cup if people don't get to see these boats in full flight, sailing in a decent breeze of 12 to 16, even 20 knots.
"The interesting thing about the two campaigns is the boats are sized fairly similar, within a couple of meters at beam and length overall. Alinghi is slightly narrower and probably slighter lighter.
"One of the key factors is the mast height and how light the boat is in relation to the mast height -- in other words, the power-to-weight ratio. You may see the two teams racing with different size masts or different size sail combinations and that's going to be a critical factor.
"On paper, we could have a very good race. The difference in performance in 40 nautical miles could be as little as two minutes. If the conditions are right and the boats aren't drifting around, this could be a really magnificent race."
BMW Oracle announced that this trimaran will be the boat they challenge with -- but don't expect the end result to look much like today's model.
"We will be making significant modifications to this boat -- it was approved that we can make modification to the boat and to the CHR," Coutts said, in reference to the Customs House Registry documentation that was one subject of recent court proceedings.
BOR-90 has already seen its share of modifications, having taken a break of several months earlier this year for major surgery. Entirely replacing the two outer hulls, called "amas" or "floats", was the most obvious modification after emerging from the tent.
"The floats are one of the components that were changed. We changed a lot of other components on the boat, some of that we'd prefer not to discuss.
"But the lead-in time to make changes on this boat is so long you really have to think a long time in advance" before modifications.
Coutts has many tricks up his sleeve, including movable ballast ("movable ballast does not necessarily mean water ballast"), but wouldn't go so far as to confirm that a fixed wing is one of the ideas that will see the light of day. But he does admit the idea of a wing mast is intriguing.
"We have been looking at a wing for this boat -- one of the things about a wing is it can achieve a higher lift coefficient, which can give you more power. I'm sure both teams have looked at it." But, says Coutts, if you take into account at the dimensions of the present mast, "the complexity of handling a wing of this size would be a huge challenge."
Coutts addressed the recent court ruling allowing for motor-driven winches on the boat. He emphasized the team's dissatisfaction with the newly permitted use of engines and regretted the loss of a key element of past America's Cup campaigns. Even in the face of all this design technology, it comes down to the sailors -- unless your sailors have been replaced by an engine.
"We don't really think it's a good development for the Cup, but having said that, those are the rules we have today. We are developing an engine, but I think it's a pity we won't have the traditional grinding element in the Cup. I think one of the great things about this sport is the physical element as well as the intellectual element. We often sail with eight grinders, but with the engine, we won't need the strong guys."
Speaking of the rules, the next dispute that has the potential to be seen before the judge's bench centers on the requirement of the Deed of Gift that deems the boat must be constructed in the country of the entered yacht club -- "constructed in country" or CIC. Rumors and accusations have been circulating regarding both teams' compliance or non-compliance.
"One of the fundamental rules of the Deed is that both boats have to be constructed in the country of the yacht club, that's one of the rules that cannot be changed. We're 100% compliant with that Rule -- 'constructed in country' means that all the equipment must be constructed in that country, other than perhaps off the shelf items, like fiber."
But the sailors are less concerned with court proceedings than getting a handle on their new ride. Learning to sail a giant multihull means setting much of your traditional sailing experience aside -- the simplest of ideas, like apparent wind angle, gets turned around. Quite literally.
"The wind angle is so narrow on these boats, both upwind and downwind, because they're sailing so fast. On a typical boat, you're sailing on the apparent wind angle upwind which is about 20 degrees. In these boats, that's the apparent wind angle going downwind. The downwind sail on this boat looks like an upwind sail on a regular boat.
"The learning curve has been very steep -- we're pushing the technology way further than at any other time in this sport. With today's design tools, we're making enormous advances -- sail area, design area, rigging, everything. And there are a lot of things that we're developing that will filter though sailing.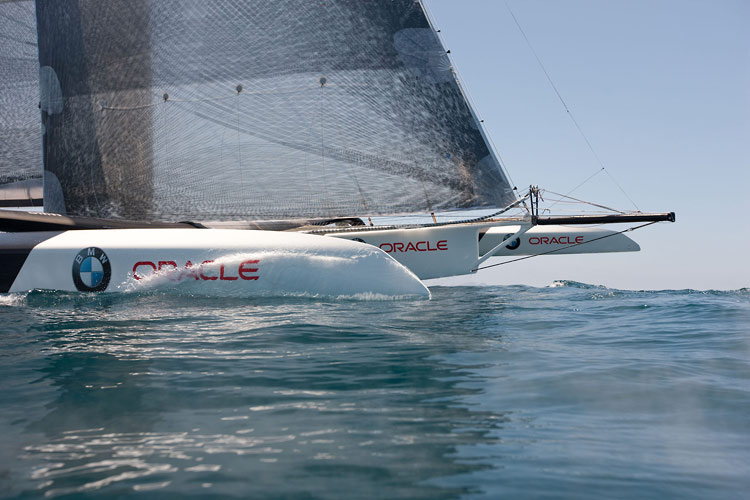 Note the wave-piercing form of the new floats.
Photo: ©2009 Gilles Martin-Raget/BMW Oracle Racing
"Everyone on the team is doing something that's never been done before."
Coutts deftly avoided answering whether he would be on the boat or not, and indicated that the final crew roster was far from set, except for the official announcement made Tuesday of James Spithill role as helmsman.
"We'll obviously select the best crew we can for these boats -- one of the things we've got to consider is that weight is a factor in these huge multihulls and that will determine how many people we race with. If it works for me to be on the team in terms of performance, then I'll be there.
"The same thing applies to Frank Cammas -- if Jimmy gets sick or something happens to him, Frank will be our alternate helmsman."
Coutts does throw kudos Spithill's way, along with some good natured needling, when it comes to his intent to (safely) push the boat.
"The fantastic thing for us is we've got young guys like Jimmy who are prepared to push the boats, while us old guys, we're a little more cautious."
-- ©2009 Diane Swintal for CupInfo