About the Louis Vuitton Trophy:
Each Louis Vuitton Trophy regatta is a stand-alone regatta sailed in event-supplied 85-foot long AC Class yachts that require a crew of 17 top sailors to sail. The regatta concept is designed to transform a port venue, regardless of its previous sailing culture, into the capital of professional yacht racing for two weeks, along with all the associated activities and excitement, on and off the water.
The concept of the Louis Vuitton Trophy regattas was inspired by the acclaimed Louis Vuitton Pacific Series raced in Auckland, NZ, last February.
Official Web site:
Louis Vuitton Trophy (offline) plus watch race videos at SailTV
The scheduled events covered four distinctly different parts of the world:

2010 Louis Vuitton Trophy Regattas
Location:
Dates:
Auckland:
March 9-21, 2010
La Maddalena, Sardinia:
May 22-June 6, 2010
Dubai, UAE
November 14-27, 2010
Hong Kong (cancelled):
January 9-24, 2011(cancelled)*

*Hong Kong was officially listed as To Be Confirmed, but was cancelled in August, 2010
There were also unofficial discussions about future Louis Vuitton Trophy events to be held in the US (most likely Newport, RI; though San Francisco and New York were mentioned) and Britain.
Dubai was been referred to by organizers as "The Final Louis Vuitton Trophy" event, as well as the farewell for the America's Cup Class ACC) in top level competition. Despite potential for future events involving LV in 2011 and onward, possibly as an element of the 2013 America's Cup lead-up regattas, up until late November no announcement had been made.
Speaking of the Louis Vuitton Trophy, Yves Carcelle, LVMH Chairman and CEO, said "This chapter of the story is coming to an end, but we are very proud and happy that the Louis Vuitton Trophy has been able to provide a competitive outlet over the past two years for so many of the teams."
Bruno Troublé, who has been a central force behind the association of the America's Cup with LV from the beginning of their sponsorship in 1983, previously told Voiles et Voilers in October that relations with BMW Oracle are excellent and LV would like to find a role in the regatta, but that any decisions probably would not come until January, 2011, at the soonest.
Earlier than expected, on November 27, 2010, at the LVT in Dubai, the company announced that they would again sponsor the Louis Vuitton Cup for the 2013 America's Cup. Louis Vuitton has been an enthusiastic backer of the challenger selection series for many years, and their announcement was a welcome sign.
The details of the America's Cup and Louis Vuitton Cup events are currently being determined.
Past LV Regatta Coverage at CupInfo:
Nov, 2010: Louis Vuitton Trophy Dubai
Nov, 2009: Louis Vuitton Trophy, Nice, France
Jan-Feb, 2009: Louis Vuitton Pacific Series, Auckland
LVT Series - Stories and Press Release:
Dec 10, 2009: Four Regattas Announced for 2010 and early 2011
Sep 8, 2009: Louis Vuitton World Series Dates and Cities Announced
January, 2009: Louis Vuitton Pacific Series Starts January 31 in Auckland

---
What's What: Cup, Acts, Series, Trophies
The Louis Vuitton Trophy regattas are independent racing events staged by the World Sailing Team Association (WSTA), a group formed by several sailing teams to self-administer a new top level match racing circuit.
Louis Vuitton has a history of sponsoring top-level match racing, primarily associated with selecting the ultimate Challenger for the America's Cup, that stretches back to 1983. Other LV-related regattas are:
The Louis Vuitton Cup (LVC): Challenger Selection Series
From 1983 to 2007, the LVC was the forum for selecting the strongest competitor to face the America's Cup defender. By beating the other challenger candidates, the Louis Vuitton Cup winner becomes the Challenger for the America's Cup. LVMH announced November 27, 2010, that they would in fact be returning as sponsor for what will now become the 2013 Louis Vuitton Cup.
Despite 24 years of strong support, Louis Vuitton and 32nd/33rd Defender SNG/Alinghi had a falling out in the wake of the 2007 America's Cup match over conflicting views of the best interest of the event and Louis Vuitton withdrew from sponsoring challenger races. Following the the victory of Golden Gate YC and BMW Oracle Racing in February, 2010, a return of LV as a patron of America's Cup Challenge Selection Series seemed likely.
The Louis Vuitton Acts:
Leading to the 2007 America's Cup, a set of 13 regattas were held around Europe from 2004 to 2007 to help publicize the America's Cup, the teams, and their sponsors, while providing initial seeding for the 2007 LVC.
See Louis Vuitton Acts 2004-2007 from CupInfo
Louis Vuitton Pacific Series (LVPS):
The incipient form of what is now the Louis Vuitton Trophy, was the "Pacific Series" staged in Auckland, NZ, in early 2009. The slow progress in resolving conflict between Defender Alinghi and Challenger BMW Oracle Racing encouraged Emirates Team New Zealand and LV to hold the regatta and allow old, new, and hopeful teams and crews to get out on the water. A comparatively low barrier to entry produced by sharing pairs of evenly-tuned race yachts made broader participation possible for many teams and helped prove the viability of the concept which, combined with the popular success of the LVPS, helped to encourage the LVT/WSTA formation.
Read more at Louis Vuitton Pacific Series Main Page

---
Links of Interest:
Louis Vuitton Trophy:
Official Web Site (Offline)
Louis Vuitton Pacific Series (LVPS):
Visit the Official LVPS Web Site (offline)


Recent Louis Vuitton Racing:
Louis Vuitton Trophy Regatta, Dubai, UAE
November 2010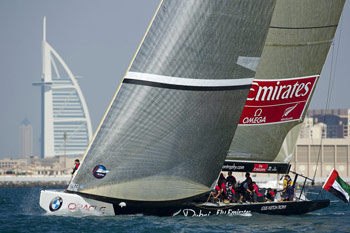 Photo:©2010 Chris Cameron/ETNZ
ETNZ beats BMW Oracle to win Louis Vuitton Trophy Dubai
See CupInfo's Dubai main page for more Results
Semifinal Results
(best-of-three series):
BMW Oracle d. All4One 2-0
ETNZ d. Mascalzone Latino 2-0
Daily Team Reports and Results:
Finals | Semifinals
Fleet Racing
Round Robin 2:
Day 6 | Day 7 | Day 8 | Day 9 | Day 10

Round Robin 1:
Day 1 | Day 2 | Day 3 | Day 4 | Day 5
Press Release (Nov 11): LVT Dubai Marks End of An Era for America's Cup Class Yachts

---
Louis Vuitton Trophy Regatta
Nice, Côte d'Azur, France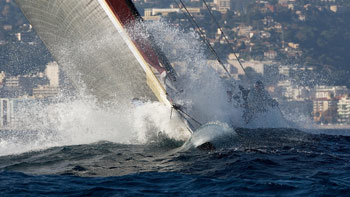 TeamOrigin, above, lost to Italy's Azzurra in the LVT Semi-Finals. Photo:©2009 Ian Roman/TeamOrigin
Italy's Azzurra wins the Louis Vuitton Trophy Nice after defeating Emirates Team New Zealand 2-0 in the Finals. ETNZ finishes second in the regatta.
See Results, Standings, and More from Louis Vuitton Trophy Nice, Côte d'Azur

---
Louis Vuitton Pacific Series
Auckland, 2009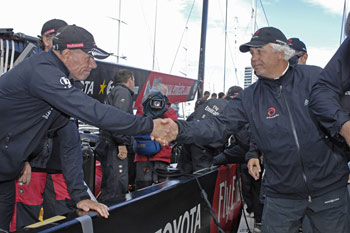 click images to enlarge and read race reports/press releases
Photo:©2009 Chris Cameron/ETNZ
See CupInfo's Louis Vuitton Pacific Series Coverage

---
About Louis Vuitton
The world leader in luxury, Louis Vuitton has been synonymous with the art of stylish travel since 1854. Since 1987, it has been part of LVMH/Moët-Hennessy -- Louis Vuitton, the world's most prestigious luxury goods group headed by Bernard Arnault. Since 1997, with the arrival of the designer Marc Jacobs, it has extended its expertise to women's and men's ready-to-wear, shoes, watches and jewelry, glasses, combining traditional craftsmanship with flair and innovation to create a complete lifestyle experience. Today, Louis Vuitton has an exclusive network of stores all across the world.
About the WSTA
World Sailing Teams Association (WSTA) was founded in 2009 by a group of professional yacht racing teams to develop a regular series of high-level competitive racing events. The WSTA is jointly owned by its preferred shareholders and represents the interests of the teams for fair and highly-competitive racing. The WSTA, in conjunction with title partner Louis Vuitton, co-organizes the Louis Vuitton Trophy.