Intro:

The new America's Cup yachts.

The AC72:

The AC72 is a 72-foot catamaran with a wingsail. These are the boats which will be used in the 34th Defense of the America's Cup in 2013, and in the challenger selection series of the Louis Vuitton Cup regatta.

Yachts will be designed and built starting in 2011, launching July, 2012, for early testing, and begin racing in 2013. Each team's designers and builders create their own hulls, wings, soft sails, and underwater foils within the confines of the rules, and test and refine their designs as the racing moves forward. Teams may build a second AC72 yacht as their resources allow.

Development and Testing: Latest Photos, Videos, and links to more Track the AC72s in development


Image:©2011 americascup.com (left), ©2011 ETNZ (right)
The AC45:


AC45 Boat #1 launched January 16, 2010.

AC45 First Sail.

Letting her rip.


The AC45 is a one-design 45-foot long catamaran with a wingsail. Identical boats are being built for each team, who will train and race them in the 2011-12 and 2012-13 America's Cup World Series seasons. The AC45 is meant to give sailors and shore crews experience handling this sort of high-tech cat, and to permit multihull racing to begin this year. Teams may modify the rigs and appendages for testing, though not the hulls. During racing, however, the AC45's must remain in their one-design configuration.

AC72 vs. AC45
Basic Specifications and Some Details:
AC72 Class Approximate Dimensions Compared to the AC45 Class Yachts:
Approximate Dimensions
AC72

---

AC45

---

Metric
English
Metric
English
Length Over All
:
22.0 m
72 ft
13.45 m
44.13 ft
Beam
:
14.0 m
46 ft
6.9 m
22.6 ft
Draft
:
4.4 m
14 ft 5 in
Mast Height
:
40 m
131 ft 7 in
21.5 m
70 ft 6 in
AC45 See Note 1
Displacement
:
5,700 -
5,900 kg
12,555 -
13,007 lbs
1,400 kg
3086 lbs
Sail area
:
Wing only
255 -
260 sq m
2744 -
2798 sq ft
85 sq m
915 sq ft
AC45 See Note 1
Gennaker
320 sq m+
3444 sq ft+
48 sq m
515 sq ft
AC72 Estimated
Main & Gennaker
580 sq m+
6242 sq ft+
133 sq m
1430 sq ft
AC72 Estimated
Notes on Dimensions:
Wing Height:
For the AC72, this is the measurement of the top of the wing itself from the waterline. With the optional wing extension mounted, the AC45 wing gains about 4 meters in overall height (See Note 1).
Draft:
Draft is taken in "Measurement Condition" with appendages at maximum depth. Daggerboards may retract, rudders may not.
Sailing Weight:
For the AC72, 5,700 kg is the minimum. 5,900 kg maximum. The AC72 Rule references "Sailing Weight" and not "Displacement", which is the term more traditionally seen in Rating Rules for race yachts.
Sail Area:
The foresails for the AC72 do not have an explicit area limit. Gennakers on the AC72's by rule actually have a minimum width, not a maximum, and overall area could be much larger than the lower estimate show here, depending on the ingenuity of each team. With the optional wing extension mounted, the AC45 wing gains about 8 square meters of sail area (see Note 1).
Note 1:
For 2012, the AC45's will have an optional wing extension that increases the height of the sail by 4 meters, adding about 8 square meters of sail area. The extension is standardized and supplied to all teams for use when wind conditions are light. Read more at America's Cup web site

---
More Info:
The Christmas Tree: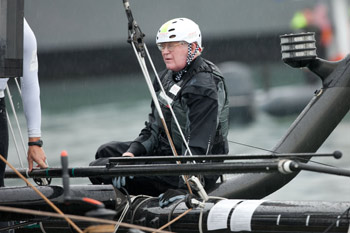 Photo:©2011 ACEA/Gilles Martin-Raget

AC45 Tech: What's new in SD? To the right of the America's Cup-winning billionaire in the above photo is the latest addition to the Cup cats, the Christmas Tree. What does it do? Read more at CupInfo
Related Articles:
Interview with designer and AC72 rule author Pete Melvin at CupInfo:
Part 1: Making the Multihull Decision
Part 2: Wingsails and the AC72 Rule
A detailed independent CFD analysis of the AC45 Wingsail has been published by Andrea Meschini at Politecnico di Milano. Unfortunately for English-language readers, the text is in Italian, but even the visuals may be instructive for the curious. Download Meschini Thesis (14MB pdf)
Cat Families:
Wingsail multihulls compared in drawing by François Chevalier comparing wing cats from the SL33 up to USA 17: Chevalier-Taglang Blog
Press Releases:
AC72 Class Rule Announcement: Press Release (Oct 15, 2010)
AC72 and AC45 First Revealed: Press Release (September 13, 2010)
More Visuals:
AC72 CGI Animation at YouTube: Video (October, 2010)

---
Additional Links and Info:
Visit Official America's Cup web site

---