More America's Cup News:
Dec 9: ETNZ launches former Luna Rossa AC45 as design and testing continue:
NZ Herald and stuff.co.nz
Nov 30: Team France skipper Franck Cammas seriously injured in GC32 foiling catamaran accident:
Yachting World
Nov 26: Adam Minoprio, former TNZ and Luna Rossa sailor, now with Groupama Team France:
stuff.co.nz
Oct 15: Going offshore ... "How Bermuda Landed the America's Cup":
NY Times
Oct 15: Finding common ground, Dean Barker and Jimmy Spithill move on from 2013's battles:
NY Times
Oct 7: Max Sirena, former Luna Rossa skipper, joins Emirates Team New Zealand:
Stuff.co.nz
Oct 5: 'A Jetfighter on the water' ... The newest Land Rover BAR development boat revealed:
The Independent
Sep 30: SoftBank Team Japan adds top designer Nick Holroyd from ETNZ:
Stuff.co.nz
Sept 17: Artemis Racing adds Francesco Bruni, former Luna Rossa tactician and helmsman
Team Press Release
Aug 20: ESPN International will show live America's Cup racing through 2017 in 40 countries
ACEA Press Release
Aug 20: Emirates TNZ takes delivery of former Luna Rossa gear, including AC45 test bed: ETNZ on Facebook
Aug 14: Royal Yacht Squadron is ready for the next 200 years, with an eye on the America's Cup:
New York Times
Aug 11: "Big, beautiful, swift, and marvelous..." Gary Jobson considers the future of the America's Cup:
Sailing World
Aug 10: Environmental issues about America's Cup site in Bermuda headed to court:
BerNews and Royal Gazette
July 25: America's Cup partners with ISAF on Youth Sailing, updated Racing Rules published:
ACEA Press Release
July 21: Tech bits: One-Design foils for the AC45s - new rudders and daggerboards mounted:
Photo Gallery
July 21: Chinese team is one of three potential entries for 2017 America's Cup or beyond, says Coutts:
Daily Mail
July 8: J Class yachts Velsheda, Ranger, and Lionheart set for Royal Yacht Squadron Bicentennial:
Daily Echo
June 25: Groupama becomes title sponsor of Team France for 2017:
Press Release and The Independent
June 24: BAR becomes Land Rover Ben Ainslie Racing, welcoming new title sponsor:
Team Press Release
June 10: Head Designer Nick Holroyd, others, leave Team New Zealand, raising questions:
Stuff.co.nz and
NZ Herald
June 8: Chris Draper, formerly with Luna Rossa, joins SoftBank Team Japan:
Team Press Release
June 5: Ben Ainslie Racing CEO Martin Whitmarsh, former McLaren F1 guru, profiled at CNN.com
June 3: 12-Meter regatta in San Francisco could be TV-ready, says veteran Cup producer Geoff Mason:
AP story
June 3: Australia's Alan Bond in intensive care, induced coma, following heart surgery:
9news.com and Daily Telegraph
May 22: A new J Class yacht coming? Unbuilt 1936 Frank Paine design on the boards at Hoek:
Yachting World
May 21: Russell Coutts helped convince Softbank Team Japan to hire Dean Barker:
Stuff.co.nz and
NZ Herald
May 20: Dean Barker confirmed as skipper and CEO of Softbank Team Japan:
TVNZ
May 18: America's Cup Class yachts USA-34 and USA-54 make new home as charters in Chicago:
WGN-TV | Crain's
May 12: Emirates will continue Team New Zealand sponsorship for 2017:
Stuff.co.nz
May 7: Kansai YC/SoftBank Team Japan's challenge is officially accepted for 2017 America's Cup
May 6: Return of LVC? Louis Vuitton and America's Cup courting each other after Prada exit:
The Independent
May 3: Team New Zealand Chairman Keith Turner resigns, cites difficulty leading from afar:
Stuff.co.nz and NZ Herald
Apr 19: Challenges facing Challengers for 2017 America's Cup:
New York Times
Apr 17: Officials confirm America's Cup Qualifiers to be in Bermuda, along with Playoffs and Match:
Official site
Apr 13: ISAF finds "no case to answer" in complaint aimed at 2013 America's Cup Jury:
ISAF Site
Apr 11: America's Cup historian Bob Fisher decries changes to yachting's most famous race:
Sail-World
Apr 10: America's Cup World Series in Italy officially cancelled. Racing begins in Portsmouth, July 24-26: Official Site
Apr 2: ACEA Commissioner Harvey Schiller offers statement on Luna Rossa exit:
ACEA Press Release
Apr 1: Kimball Livingston's thoughts on the latest America's Cup upheaval:
Blue Planet Times
Mar 31: Oracle Team USA's cargo ship comes in, unloads team equipment in move to Bermuda:
Royal Gazette
Mar 30: If changes made "... it seems certain new teams will join this edition of the Cup," says Coutts:
Stuff.co.nz
Mar 30: Race areas and spectator plans announced for America's Cup World Series Portsmouth: TeamLocals
Mar 27: Why reducing costs is a risk to the America's Cup, from Matthew Sheahan at:
Yachting World
Mar 21: Luna Rossa's AC72 placed on permanent display at Science and Technology Museum in Milan:
Team Site
Mar 18: Artemis Racing signs sponsorship deal with watch-maker Ulysse Nardin:
Team Press Release
Mar 18: America's Cup World Series Portsmouth, set for July 23-26, has sold over 85,000 tickets:
TeamLocals
Mar 17: Ben Ainslie and Paul Campbell-James return to Bermuda to train on Nacra 20s:
Royal Gazette
Mar 16: Oracle Team USA's 2013 America's Cup victory cited for impact of big data in sport:
The Guardian
Mar 13: 1958 America's Cup-winner Briggs Cunningham's race car honored on historic registry:
Hemmings Blog
Mar 12: Ben Ainslie Racing hires McLaren F1 boss Martin Whitmarsh as CEO:
Team Press Release
Mar 10: ETNZ: Dean Barker turns down senior management role: Sail-World
Barker: Versions differ: NZ Herald
Mar 9: Oracle Team USA receives development approval for new 7.2 acre base in Bermuda:
Royal Gazette
Mar 6: Plans for 2017 America's Cup Qualifiers & 2016 World Series in Auckland are uncertain:
New Zealand Herald
Mar 4: Dick Enerson, crew on 1964 America's Cup winner Constellation, remembers an era in Newport:
Scuttlebutt
Feb 25: Franck Cammas and Groupama prepare a Team France foiling AC45 for the 2015 ACWS circuit:
Team Site
Feb 25: In the footsteps of J Class designer Starling Burgess, building a new Dymaxion car:
Hemming Blog
Feb 20: Per Burling interview Dean Barker still onboard, no decision on ETNZ skipper: Stuff.co.nz
Feb 19: America's Cup Class USA-54 arrives in Chicago, cold weather for marine mammals:
Video (0:54)
Feb 19: Foiling AC45 yachts from Oracle and Artemis enjoy outing in San Francisco:
Stuff.co.nz
Feb 18: Reports that Dean Barker is leaving are inaccurate, says Emirates Team New Zealand:
Stuff.co.nz
Feb 17: Team New Zealand funding firms up as 2017 America's Cup Qualifiers may head to Auckland
NZ Herald
Feb 16: New Zealand in line to host America's Cup Qualifiers in 2017 as Aussie bid fades?:
TVNZ and Telegraph
Feb 16: Decision deadlines slip for America's Cup Qualifiers, venues, and other regatta elements:
Sail-World
Feb 12: Historic J-Class yachts to compete in Bermuda between Cup races in 2017:
ACEA Press Release
Jan 27: Gougeon Brothers to again supply Oracle Team USA with resins and adhesive:
Composites World
Jan 24: Virgin, Richard Branson, may become another sponsor of BAR's challenge:
The Telegraph
Jan 22: Luna Rossa says America's Cup World Series in Cagliari is confirmed for June 4-7:
Luna Rossa Team Site
Jan 10: Bermuda America's Cup Team effort with Dennis Conner has been scrapped:
Royal Gazette
Jan 8: "Cracking along quite nicely..." BAR's new UK team base taking shape:
Portsmouth News
Jan 5: Ben Ainslie going full speed, $130M budget, 55 staff, and at least one Duchess:
CNN international
Dec 28: Tall ships event in Bermuda scheduled to precede the America's Cup in June 2017:
Royal Gazette
Dec 10: Team New Zealand pulls out of Extreme Sailing Series Sydney to concentrate on America's Cup:
My Sailing
Dec 8: Financial commitments that could total $77M helped land America's Cup in Bermuda:
stuff.co.nz
Dec 8: Attending the NYC venue announcement with John Mangino:
"America invades Bermuda"
Dec 5: Bermuda to gain $14M in taxes on $250M America's Cup impact, but supply facilities and more:
Bernews
On San Francisco not hosting the 35th Defense: America's Cup thoughts for a traditional event in modern era from Kimball Livingston at Blue Planet Times
Dec 3: Iain Murray to return as Regatta Director for 2017 America's Cup?
Stuff.co.nz
Dec 1: Team France announcement expected in Paris, possibly to confirm ACWS in Lorient: CupLegend
(in French)
Nov 30: Minister Stephen Joyce says choice of America's Cup venue will affect ETNZ public funding:
NZ Herald
Nov 23: Jimmy Spithill to have surgery for torn tendons in elbow dating to 2013 America's Cup:
Daily Telegraph
Nov 20: Luna Rossa Open Day December 12 on Cagliari for first 1000 registrants:
Cagliaripad.it
(in Italian)
Nov 17: Harold S. Vanderbilt, three-time America's Cup winner, named to RI Hall of Fame:
Providence Journal

Nov 17: Not the America's Cup, but it's still a great photo of a foiling cat:
Perfect Shot at CatSailingNews
Nov 7: Bermuda legislation sought by Governor to back 2017 America's Cup hosting bid: Bernews
Nov 4: Shares of Sceptre: Own, sail, and preserve an historic America's Cup 12-Meter:
Sceptre Web Site
Nov 4: Oracle skipper Jimmy Spithill wins Sailor of the Year honor for 2013 America's Cup comeback:
Press Release
Nov 3: Emirates Team New Zealand leaders offer video updates about Kiwi Progress:
Part 1 (3:58)
Part 2 (2:48)
Oct 28: Artemis Racing brings Laser Champion and Moth Sailor Paul Goodison:
Team Press Release
Oct 23: Airbus Becomes Technology Partner for Oracle Team USA's America's Cup Defense:
Press Release
Oct 8: Portsmouth, England, to host America's Cup World Series events in June 2015, July 2016:
The News
Oct 2: Herreshoff Museum's replica of 1903 America's Cup winner Reliance advances, at 1/6 scale:
Reliance Project
Images: America's Cup Photographers
Editor's Choice: A Yacht Race and More in Miami
---
For older news stories, See News Archives of America's Cup Stories 2005-2012

Jan 19: Tickets now on sale for Louis Vuitton ACWS Chicago, coming this June: Buy Chicago LV ACWS Tickets
Dec 10: Land Rover BAR's new development boat T2 capsizes, crew okay, minor damage to wing: Team Site
ACWS Bermuda
Sunday Oct 18: Final Race Day
Sunday's Program:
Three Fleet Races, each scoring double points. First race start at 2:10 pm. The final race intended to finish at the America's Cup event village, conditions permitting.
Conditions:
Winds 9-10 knots NW (WindGuru). Winds 12-18 kts in the afternoon, increasing; scattered showers dissipating mid-day (BWS).
Outlook:
With Saturday's races abandoned, the Sunday schedule has been expanded from two races to three. Sunday's races are all scored as double-points, maintaining the same total number of points to be awarded during ACWS Bermuda. This is significant because the total points accumulated by each team at the end of all the World Series regattas will affect challenger selection for the 2017 America's Cup.
Race 1:
Oracle Team USA wins Race 1! Artemis Racing 2nd, Land Rover BAR 3rd, SoftBank Team Japan 3rd, Emirates Team New Zealand 5th, and Groupama Team France 6th. With two races to go today, Oracle and ETNZ are now tied in ACWS points, but Oracle, having placed ahead of the Kiwis in the most recent race, leads on tiebreak.
Race 2:
Artemis Racing wins Race 2! ETNZ 2nd, OTUSA 3rd, Japan 4th, France 5th, BAR 6th. ETNZ now leads the ACWS standings by two points, one race still to come today.
Race 3:
ETNZ wins Race 3! BAR 2nd, Japan 3rd, Artemis 4th, OTUSA 5th, France 6th.
Artemis Racing wins LVACWS Bermuda.
See Regatta results
ETNZ will remain the series leader after three regattas.
See overall Louis Vuitton ACWS points standings

---
ACWS Bermuda
Saturday Oct 17: Race Day 1
Saturday's Program:
Two Fleet Races, Races 1 and 2.
First Race Start 2:10 pm Local time, second race intended start 2:55 pm. Second race to finish at America's Cup event village, conditions permitting (See Race Area).
Conditions: Winds 5 knots easterly (WindGuru). Winds 5 kts and variable, late afternoon thunderstorm risk (BWS).
Race 1:
Start postponed for light wind. Race officials attempt to set a course inside the harbor, but conditions are not adequate. Racing is abandoned for the day at 4:15.
Sunday's schedule will be changed from two races to three races.
---
ACWS Bermuda
Friday Oct 16: Practice Racing
Friday's schedule calls for two practice races with the AC45 cats, rehearsing for the start of racing tomorrow.

---
Gothenburg Race Day 2 (Final Day):
Sunday August 30
Emirates Team New Zealand wins Louis Vuitton America's Cup World Series in Gothenburg
Emirates Team New Zealand prevailed in the second World Series regatta of the 2017 America's Cup cycle, as six foiling AC45 catamarans competed in Gothenburg, Sweden, August 28-29.
Friday, August 28: Practice Races and Sprint Race
Saturday, August 29: Racing: Fleet Races 1 and 2 plus evening exhibition race on the river.
Sunday, August 30: Racing: Fleet Races 3 and 4
Read More: ACWS Gothenburg Daily Schedule
Where to Watch: TV and Online options
Also: Results and Standings
Oracle Team USA wins Races 1 and 2,
Artemis Racing takes Race 3, and ETNZ gets Race 4 to win the LVACWS in Gothenburg!
Sunday Outlook:
Races 3 and 4 (Fleet Races)
Scheduled start times: 1:10 pm and 1:55 pm local time.
Sunday's races are weighted double points.
Race 3:
Artemis Racing wins Race 3! Emirates Team New Zealand 2nd, Land Rover BAR 3rd, Oracle Team USA 4th, Soft Bank Team Japan 5th, Groupama Team France 6th.
Standings: the Race 3 results leave three teams with 34 points. After tiebreak ETNZ tops the standings, followed by Land Rover and Oracle. Artemis Racing is 4th, trailing by only 2 points. Team Japan has 25, and Team France has 21. Four teams can still win the event in the final race.
Race 4:
Complete. ETNZ, Team Japan, and Oracle are 1-2-3 in early legs. Groupama Team France passes a gybing Oracle at Gate 4 to get into third place. The left didn't pay for Oracle like it did yesterday, and Team France defends their spot tacking in the center of the course until the layline comes up. ETNZ meanwhile holds steady first place, survives a hole in the wind near the finish line.
ETNZ wins Race 4 and the ACWS in Gothenburg! Team Japan 2nd in Race 4, Team France 3rd, Oracle 4th, BAR 5th, Artemis 6th.
Regatta standings (provisional):
1: Emirates Team New Zealand
2: Oracle Team USA
3: Land Rover BAR
4: Groupama Team Japan
5: Artemis Racing
6: Groupama Team France
---
Gothenburg Race Day 1:
Saturday August 29
Saturday Outlook:
Races 1 and 2 (Fleet Races)
Start times: 1:10 pm and 1:55 pm local time.
Louis Vuitton America's Cup World Series Gothenburg Races 1 and 2 went off in "fresh" air, winds WSW at 15-18 knots under clear skies. The short course featured five laps, along with a surprise, rock obstructions to manage in the middle.
Race 1:
All six cats crossed the start line full speed at the gun, with Emirates Team New Zealand to weather. Oracle Team USA managed a shorter line to the first reaching mark, taking the lead with other boats rounding two-wide behind.
At the first upwind gate USA still led, followed closely by SWE and NZL. The downwind speed of the foiling cats made short work of the leeward leg.
On the second upwind leg, Land Rover BAR played the left side of the course for a gain. This strategy would remain a good game plan all day, with most boats finding lifts on that side. At the gate, the order was 1-USA, 2-GBR, 3-NZL, 4-SWE, 5-JPN, 6-FRA.
Ben Ainslie managed a split with Oracle Team USA on the fourth weather leg, closing up some distance to the leader. Jimmy Spithill, though, covered his former teammate, protecting his position and taking the first race of the regatta.
Oracle Team USA wins Race 1! Land Rover BAR 2nd, ETNZ 3rd, Artemis Racing 4th, SoftBank Team Japan 5th, and Groupama Team France 6th.
Race 2:
Again Spithill on Oracle Team USA timed the gun perfectly, got out ahead from a mid-line position, and rounded the turning mark in the lead.
At the first upwind gate, with USA leading, the British and the Kiwis were nearly tied for second, splitting the gate and coming out onto opposite gybes looking for separation. At the second upwind gate, Oracle Team USA still led while Emirates Team New Zealand finally clawed ahead of Ben Ainslie Racing.
The Brits gained on the second downwind by setting their gennaker, a tactic they used successfully last month in Portsmouth. On the short course the sail requires tidy crew work, but delivers an advantage when done properly. The move worked again here, allowing GBR to lead NZL at the leeward gate.
On the third upwind, still in first, Oracle again stayed left though the others at the head of the fleet went right, adding to USA's lead. The fourth upwind unfolded similarly, with Ainslie and Burling jousting for second place while Spithill extended, claiming his second win of the day after leading wire-to-wire.
Oracle Team USA wins Race 2! Land Rover BAR 2nd, ETNZ 3rd, Softbank Team Japan 4th, Groupama Team France 5th, Artemis Racing 6th.
Racing resumes on Sunday, with Races 3 and 4 to conclude the ACWS in Gothenburg. Scoring will be weighted double for Sunday's races.
Current Standings after Day 1:
1: Oracle (20 pts)
2: Land Rover BAR (18)
3: ETNZ (16)
4: Softbank Team Japan (13)
5: Artemis Racing (12)
6: Groupama Team France (11)
See Full Results and Standings
After Saturday's results, BAR still leads the season standings, but by just one point over Oracle Team USA.
Artemis was hampered by a collision with an underwater rock formation, throwing crew around on the boat and damaging their foil and rudder.
Friday saw Artemis Racing damage their AC45 in a pre-practice-race capsize, but the boat was back in shape in time for racing on Saturday. ETNZ also sat out Friday, while Oracle Team USA and Land Rover BAR each won a practice race.
---
Portsmouth Final Race Day: Sunday July 26
Due to severe weather conditions, Sunday's Racing Schedule has been abandoned. No Racing.
High winds raised doubts about safety for spectators and competitors. The remainder of the racing schedule will not take place. The Portsmouth Regatta is concluded. Standings will remain as they were following Saturday's races, with Land Rover BAR taking first place.
Read Official Statement
Standings: Final
1 Land Rover BAR (19 points)
2 ETNZ (18)
3 Oracle (16)
4 Team France (13)
5 Team Japan (13)
6 Artemis Racing (11)
Saturday's races awarded 10 points for first place, 9 points for second, and so on. Sunday's races would have earned double the points for each finish.
Sunday Outlook: Race Day 2 (Final Day)
Two Fleet Races (Races 3 and 4)
Race 3 start: 1:40 pm in UK/8:40 am ET US
Race 4 start: approx 2:25 pm/9:25 am ET US
(Racing has been abandoned due to weather.)
Conditions:
Winds SSE at 17 kts (Wunderground); Winds S to SSE at 21 kts, gusts to 28 (Windfinder); Winds S at 19 kts, gusts to 25 (Windguru).
Schedule | Race Area | Where to Watch
Live Audio: Sailradio UK

---
Portsmouth Race Day 1: Saturday July 25
Program:
Two Fleet Races (Races 1 and 2)
Race 1 start: 1:40 pm in UK/8:40 am ET US
Race 2 start: approx 2:25 pm/ 9:25 am ET US
Conditions:
Winds 11 kts NW, clear (Wunderground); Winds 13 kts NW, gusts to 17 kts. (Windfinder); Winds 12 kts NW with Gusts to 16 kts WNW (Windguru). Tides: running approximately W to E.
Schedule | Race Area | Where to Watch
Live Audio: Sailradio UK
Race 1:
Complete. Good start for Oracle Team USA, leading at Mark 1. Emirates Team New Zealand is 1st at Mark 2. Land Rover BAR is second, as teams that have the angle to sail deep enough make gains flying Code Zeros. At leeward gate, Mark 4, BAR now leads, ETNZ second, followed by Oracle, Artemis Racing, Softbank Team Japan, and Groupama Team France. BAR carries the lead around Mark 5, onto the final downwind leg, splits with ETNZ, and extends their lead for a bit. Approaching the final downwind turn, Oracle finds an extra gear and sneaks ahead of ETNZ at the mark, just 40m behind leader BAR heading for the finish.
Land Rover BAR wins Race 1! Oracle in 2nd by delta of 10 seconds, ETNZ third, Team Japan 4th, Artemis 5th, Team France 6th.
Race 2:
Complete. Course is shortened. Guns goes off at 2:30 UK time. Lots of tussling at the line, Groupama pushes Oracle, penalty on Oracle. Artemis and Team Japan at leeward end have more room and start better. BAR narrowly leads Team Japan around Mark 1. Fleet splits, Japan, Team France, and Artemis to the right. At Mark 2, the first downwind gate, ETNZ leads, Team France 2nd, BAR 3rd, Oracle trails fleet. Upwind, Team France presses ETNZ for the lead, but has to make an extra tack at the windward gate, Mark 3, ETNZ keeps the lead. ETNZ struggles with foils, but still maintains lead, helped by a split that hurt Team France. Japan third, BAR rounds fourth, with Artemis close behind.
ETNZ continues leading around Mark 4, order unchanged except Oracle passing Artemis. Upwind, Ainslie on BAR tries to split to the left, looking for a way to gain, slipping into 3rd ahead of Japan. Team France sailing the middle of the course, pressing leader ETNZ. Code Zero problem for the Kiwis costs some distance, but Kiwis still lead around the windward mark. ETNZ turns left, France turns right, BAR closing up in 3rd. Team Japan just ahead of Oracle, Barker with rights tries but can't hold off more speed from Spithill as they round onto the final downwind leg. ETNZ's lead is close to 200m. Ainslie's sights are set on catching Team France.
Emirates Team New Zealand wins Race 2! Land Rover BAR takes second, Team France 3rd, Oracle 4th, Team Japan 5th, Artemis 6th after struggling with sails.
Standings after Race Day 1: (provisional)
1 Land Rover BAR (19 points)
2 ETNZ (18)
3 Oracle (16)
4 Team France (13)
5 Team Japan (13)
6 Artemis Racing (11).
Team France leads Team Japan by virtue of having the better finish in the most recent race. Two more races to come on Sunday, weighted 2x over Saturday's results.

---
BMW Returns as Event and Team Sponsor
Oracle Team USA to Benefit from Technology Partnership
(July 9) German automaker BMW will return to an America's Cup role, becoming a sponsor of the event itself along with providing engineering expertise to the defender, Oracle Team USA. The agreement renews a partnership that BMW held with the Oracle sailing team from 2003 to 2010. The company's new role with the event is termed "event organizer," will bring a BMW branding presence to the race course, including the marks, the racing fleet, and various technology driven aspects of the television broadcast.
---
Immersive VR Headsets Meant to Wow VIP Spectators
(July 6) Animation Research Ltd., the New Zealand company that helped make live America's Cup coverage available on the internet via Virtual Spectator, has developed a system to provide a few fortunate fans with 3D headsets that place them onboard a new 48-foot America's Cup Class yacht, and on the historic 1851 schooner America, too. But you won't be able to try it at home, the setup will be only for onsite visitors to the America's Cup World Series races starting this summer.
Read more at Otago Daily Times

---
Alan Bond, 1938-2015
(Jun 5) Alan Bond, who led the first successful America's Cup challenge in history, bringing yachting's most famous trophy home with him to Western Australia, has died following complications due to heart surgery. Bond was 77. Bond's fourth campaign in 1983, centered on designer Ben Lexcen's winged-keel 12-Meter Australia II and skippered by John Bertrand, beat the US defender for the first time in 132 years. Though an irrepressible character, a self-made millionaire many times over, a national hero, and a central figure in the America's Cup for two decades, Bond's life later unraveled in scandal, a billion dollar bankruptcy, fraud convictions, and time in prison. True to form, however, in recent years Bond was on his way to rebuilding his fortune.
Obituary at Western Australian | AP Story
The Guardian | NZ Herald
Perth Now Story | Perth Now Tributes
John Bertrand at Daily Telegraph & Western Australian

---
Louis Vuitton to Return as Event Partner for 2017 America's Cup
(May 27) Luxury goods manufacturer Louis Vuitton has signed an agreement with America's Cup organizers to renew commercial sponsorship of the regatta. In the wake of the lightly raced 2013 Louis Vuitton Cup, along with business and marketing issues, LVMH appeared to have severed ties with the America's Cup that date back to 1983, but will now be sponsoring all the 2017 events from the ACWS through to the 35th Defense itself, which will be titled "The America's Cup Match as present by Louis Vuitton."
"We had told them that they would need to come back to us with a compelling story this time and a compelling proposal so we didn't have to face those issues again," said Michael Burke, chairman and CEO of Louis Vuitton.
Read Story at NY Times | ACEA Press Release

---
Tom Ehman Pursuing Annual 12-Meter Regatta in San Francisco
(May 7) An annual regatta on San Francisco Bay, raced in 12-Meter yachts, is being explored by Tom Ehman, Jr., Vice Commodore of the Golden Gate YC (GGYC). Proposed are relatively similar 12-Meter yachts, costing less than $3 million apiece, and regulations bringing a meaningful sense of nationality to the competition. Ehman, whose involvement with the America's Cup stretches back to the 1980's, included recent senior leadership roles at the America's Cup Event Authority and Oracle Racing, says that the event would not be officially affiliated with either the America's Cup or GGYC. The focus would be on an accessible, predictable event taking advantage of the same sailing conditions and spectator opportunities that benefited the 2013 Cup match.
"There is obviously strong interest in monohull racing with strong teams, in boats everyone has heard of and loves," said Ehman. "There is a nostalgia and romance with the 12-Meters, and to have those boats racing in a lot of breeze on San Francisco Bay where people can watch it, it will remind people of how great the America's Cup was in Fremantle in 1987 in windy conditions in 12s."
Read AP Story at Island Packet

---
Oracle Team USA Begins Sailing AC45S Catamaran in Bermuda Training
(May 4) Oracle Team USA began sailing their AC45S yacht in Bermuda on Monday, with the defender working up for the 2015 ACWS season by practicing at the venue for the 2017 America's Cup match. Joining Artemis Racing and BAR already training in Bermuda, Oracle will also sail Flying Phantom multihulls and Moths. The next two months at the venue should be particularly useful for the teams to increase familiarity with local sailing conditions at the time of year during which the challenger selection series and the America's Cup Match are held in 2017.
---
Kansai YC, SoftBank Team Japan, Announced as a 2017 Challenger
(Apr 30) "To lead a Japanese challenge for the America's Cup is a dream come true," said Kazuhiko Sofuku, known as "Fuku." The team is expected to begin competing at America's Cup World Series events this year.
SoftBank Team Japan will also receive "technical assistance" from Oracle Team USA, which was not outlined in detail but may include design and engineering for their America's Cup yacht, similar to that reported to being provided to Team France.
Read Team Japan/ACEA Press Release

---
Kansai YC Challenge, with Dean Barker Involved, is Expected
(Apr 23) A late entry challenger from Japan is expected to be announced shortly. Led by Masayoshi Son, Japan's richest man, with additional sponsorship from Softbank, the campaign will represent the Kansai YC. Dean Barker, having departed Team New Zealand, is rumored to be involved, though a Japanese skipper will be selected. Reported by Stuart Alexander at The Independent, the Japanese effort may also be the recipient of an America's Cup yacht design from defender Oracle Team USA.
Read story from Stuart Alexander at The Independent

---
Team New Zealand: Not Giving Up -- on Regattas and Funding
(Apr 20) Team New Zealand and supporters say that they are not giving up on plans to hold America's Cup Qualifiers or a pre-2016 regatta in Auckland. Both government funding for TNZ and a major sponsorship are tied to Auckland's hosting an America's Cup-related regatta, and the New Zealander's believe that an agreement on the event was reached with the America's Cup Event Authority (ACEA) before an abrupt change in plans for 2017 was announced last month.
Dr. Keith Turner, Chairman, TNZ, says that agreement for an Auckland event was announced to the teams in March, and memorialized in a letter from ACEA to TNZ. The team has applied for the matter to be addressed in arbitration. The NZ government is adamant that additional funding beyond the $5M NZD already provided would not be contemplated without the Auckland event.
Russell Coutts, quoted at the New York Times, contemplated what might happen in the aftermath of a Team New Zealand withdrawal from the America's Cup. "Others would put a New Zealand team together because frankly they have the components of a very competitive team, more so under this rule," he said. "They have a great sailing team, and this rule favors a great sailing team."
Stories at NZ Herald:
(Apr 20) It's not the end of the Road and
(Apr 21) TNZ to fight on

---
Schiller: Managing the America's Cup in the 21st Century
(Mar 18) Dr. Harvey Schiller, Commercial Commissioner for the America's Cup, was interviewed by Sports Pro Media about how he is dealing with the current event leadership tasks for the 2017 America's Cup.
Schiller, on the process that selected Bermuda as the venue for the 2017 Defense: "I've been in the sports business a long time and I always tell everybody 'don't have a contest, pick where you want to go' because you have one winner and a lot of losers, and no city wants to be in a position where they are considered to have lost something – a political convention, a Super Bowl, whatever. Bermuda prevailed for us."
Read interview at SportsProMedia.com

---
Dean Barker is Out as Team New Zealand Skipper
(Feb 26) Despite denials from Emirates Team New Zealand over past weeks, Dean Barker, Skipper and Sailing Director, has been replaced. Glenn Ashby will become Sailing Director and Peter Burling gets the helm. Barker told the Campbell Live program he was "gutted" by the news, learning of the move first through media reports and not direct communication from the team. Barker, who began with the team in 1995 and had been skipper since 2000, has been offered a role in coaching and performance management, plus a position on the Executive Committee.
Relations appear strained at present and Barker says he wants to sail, not advise. ETNZ states that though rumors of a change were being hotly reported in the NZ media lately, the team was engaged in a review process and did not feel it was appropriate to comment until that was completed. A loss of $20M in funding is also cited as a factor in not signing Barker. ENTZ has cut back on other fronts as well and will field only one AC45 entry (helmed by Burling) for the 2015 ACWS, not two. Team activities go to full strength in Auckland staring March 2.
Read More:
Barker: "I am absolutely gutted in the way that I've been treated by Team New Zealand" Stuff.co.nz
ETNZ's Grant Dalton: "We're hoping to retain Dean's 20 years of America's Cup experience in Emirates Team New Zealand but we also acknowledge it is time for new blood to be given the chance at the helm of the country's challenger" ETNZ Team Statement
Dalton on the offer of a management role for Barker: "We hope he accepts it. It is a very senior role, speed-loop related, and suits a guy who can drive as well as understand the process of design, and who can help mould the shape of the speed, and foils and everything that goes with the complete package." Plus more background on changes afoot at ETNZ: Sail-World

---
Cup Boats in Texas on Way to New Home in Chicago
(Feb 15) Dennis Conner's 1995 America's Cup Class yacht Stars & Stripes and Aloha Racing's 2000 yacht Abracadabra have made it as far as Texas on the trek to their new home in Chicago, sighted in Abilene over the weekend. Starting this spring Next Level Sailing will offer both ACC's for day sailing, team building match races, sunset cruises, and other waterborne excursions on Lake Michigan.
The multiple semi-trailer caravan of hulls, masts, and keels will arrive in Chicago later this month. After receiving refurbishment and restoration, a mid-May launch date is on the calendar. Aloha's USA-54 was memorably decorated in whale livery by the artist Robert Wyland. USA-55 won the 1995 Citizen Cup, as the defense trials were then known, beating America3's Mighty Mary and Young America's USA-36.

---
Thoroughly Modern Herreshoff
(Feb 12) Sandy Lee has been at the center of a project creating a one-sixth-scale version of the giant America's Cup defender Reliance (1903) for the Herreshoff Marine Museum. As part of the years-long build, he and his team studied photos, drawings, and other records of the original yacht in great detail, even re-constructing sections of the spars in authentic materials at full-scale.
The result will be a highly accurate 37-foot-tall depiction of one of the most legendary boats to ever sail. The modeling process has been a revealing exploration of Capt. Nat Herreshoff's design and manufacturing innovations, which employed technologies of industrial mass production that pre-dated Henry Ford's assembly line.
Sandy will share some the insights gained from the Reliance project in a lecture Thursday, February 19th, with a 6:00 pm reception/7:00 pm presentation, at the Herreshoff Marine Museum in Bristol, RI.
Read more at Herreshoff Marine Museum:
Lecture Series and Reliance Project Blog

---
USA Television Deal Reached for 2017 America's Cup
(Feb 9) The 2017 America's Cup will be broadcast on NBC for US television viewers, according to a broadcast deal announced today by event organizers. Weekend racing for the 2017 America's Cup match will be live over-the-air on NBC, along with some of the Challenger selection races. Additional racing including the ACWS events will be on the NBCSN channel and all coverage will be streamed via NBC's web platform.
---
Fast Smart Machines
(Feb 4) Tactical situations in the modern America's Cup unfold more quickly than ever. Accurate simulation of the boats and the racing conditions may enable Artificial Intelligence (AI) to evolve better tactics and strategy, equaling and even exceeding unaided human ability to find the fastest way around the course. Can a computer teach itself better ways to get a foiling America's Cup cat across the finish line? Yes, with neural networks, millions of virtual match races, and a tough opponent to co-evolve with (or against), namely another cat-sailing AI.
Researcher, engineer, and neuromancer Andrew Mason explores what fast, smart, machine thinking may be able to bring to the America's Cup:
Read More at Virtac Blog
---
Iain Murray Confirmed as Regatta Director for 2017 America's Cup
(Dec 18) Iain Murray, the Australian veteran of the America's Cup scene, will reprise his 2013 role as Regatta Director for the 2017 edition of the famous yacht race. Murray initially was the leader of the 2017 Challenger of Record, Team Australia, until the Aussie campaign was folded last summer. Well-respected and experienced, Murray was perceived to head the shortlist for the job. Although it was not publicly confirmed at the venue announcement December 2, his appointment was reported by most sources to be nearly finalized, and in fact Murray was already working in the position on December 1.
---
Russell Coutts Talks About 2017 Plans
(Dec 3) With Bermuda announced as the 2017 host of the America's Cup, and other key aspects about the 35th defense still awaited in the next few weeks and months, Craig Leweck at Scuttlebutt Sailing talked with Russell Coutts about the forces surrounding the event and the thinking behind the strategies organizers are pursuing:
Question: There is a contingent that is critical of the venue now being held outside of the defender's country. The America's Cup is draped in tradition, and having the venue in Bermuda is contrary to this tradition. Has the America's Cup now moved beyond this sentiment that the event should be hosted in front of the team's club?
Russell Coutts: We clearly think it has moved beyond that. You're right, we could have considered it, for example, selfishly, and said, "We're just going to host it in front of our own club" without considering broadcast time zones, without considering where the other teams could be housed. We could have looked at it very narrowly, but this is an international event. It's got international teams, and those teams have sponsors, and the broadcasters are an important part of that sponsorship. So we looked at some of those things and weighted them very, very highly.
Question: What has been decided in regard to the challenger elimination series? The Protocol indicates a scenario where teams may not advance to the final venue in Bermuda.
Coutts: That's under discussion now, and frankly, Craig, I'm pretty limited about what I can tell you. What I can tell you is, all of the teams will be going to Bermuda.
Read the complete interview at Scuttlebutt Sailing

---
What to Expect on Dec 2?
(Dec 1) The location and dates of the 2017 America's Cup are to be announced at a press conference tomorrow in New York City, and the island of Bermuda is widely expected to be the choice. Barring a big surprise, such as a late challenger entry, what else might be on the menu?
The Protocol for the 35th America's Cup outlines several additional aspects of the event that are yet to be revealed, including the specific race areas (which, like the naming of the host city, are due by Dec 31); plus the dates and venues for one to two Youth America's Cup events (also due by Dec 31).
The Racing Rules of Sailing for the America's Cup (RRSAC) were due Nov 1, as was the 2015 America's Cup World Series schedule. The ACWS plan is still coming out location by location, with a rumored Lorient, France, regatta possibly being confirmed later this week.
Also possible in NY on Tuesday, though not required until next February 15th, are the venues for the America's Cup Qualifiers, to be sailed about five months before the match. The America's Cup Playoffs, otherwise known as the challenger semi-finals and final, must be held in the same city as the America's Cup defense, but the dates for the playoffs are not due until February 15 either.
Once the venue for the 2017 America's Cup has been announced, within seven days ACEA is supposed to share relevant weather data with the competitors, and, within 30 days, to set the date when competitors may begin testing their AC62 yachts against each other at the venue.
The dates for these conditions, and other regatta aspects large and small, are prescribed by the Protocol.
See a detailed schedule for America's Cup 2017 including protocol items

---
Gothenburg and Portsmouth 2015 & 2016 World Series Regattas Added
(Nov 26) Three more America's Cup World Series regattas have been announced: Gothenburg Sweden in August 28-30, 2015; and Portsmouth, England, July 23-26, 2015, and July 21–24, 2016. These join the previously announced Bermuda ACWS in October, 2015. Additional events are anticipated including Cagliari, Italy, in June, 2014, which is as yet unofficial.
Read: Sweden | Portsmouth | Bermuda

---
2017 America's Cup Venue Announcement Coming December 2
(Nov 20) The location of the 35th defense of the America's Cup, to be held in 2017, will be announced at a press conference in New York City on December 2, event organizers said today. San Diego and Bermuda are the finalists to host the defense, and sailors and fans alike have been hoping to find out where the Cup heads next. A story from the Associated Press names Bermuda as the 2017 venue. Reports from San Diego via The Independent agree. Despite Emirates Team New Zealand's description of Bermuda as speculation, the island's selection is now regarded as a done deal by most observers.

---
Bermuda to Host a 2015 World Series Regatta
(Nov 5) Still a candidate to host the 2017 America's Cup Match, the island of Bermuda has been announced by ACEA as the site of an America's Cup World Series regatta in October, 2015. An additional ACWS venue was expected to be named today, also, among six to eight 2015 events in total.
---
2015 America's Cup World Series Events Taking Shape
(Nov 1) Harvey Schiller, Commercial Commissioner for the America's Cup, announced today that two venues for the 2015 America's Cup World Series were set, and would be announced on November 5. Additional regattas for 2015 are still under negotiation. Schiller expects an additional team, as a late entry, joining the five challengers and the defender. Read ACEA Press Release

Portsmouth is one likely venue, Japan or China are possible new teams. Read report at The Independent

Toulon France Announced as 5th ACWS Stop in 2016
(Dec 22) The Louis Vuitton America's Cup World Series teams will race AC45F catamarans September 10-11 in Toulon, France, organizers confirmed today. The regatta joins Oman, New York, Chicago, and Portsmouth as among the announced events for 2016. A sixth regatta, likely in Japan in October, may also be added to the schedule, but is not yet official.
Read ACEA Press Release
---
New York City Confirmed for May 7-8 America's Cup World Series Regatta
(Dec 7) The New York Times reports that the long rumored America's Cup World Series regatta in New York City is now officially set for May 7-8, 2016.
Read: Story at New York Times | ACEA Press Release

---
Oman to host ACWS Event in February
(Dec 6) AC45 catamaran racing will resume February 27-28 in Oman, for the first Louis Vuitton America's Cup World Series regatta of the 2016, organizers said December 6th. The event will mark the first appearance of the ACWS in the region. The newly announced Oman date joins previously confirmed regattas in Chicago (June) and Portsmouth (July).
Organizers have been suggesting there will be a total of six ACWS events next year. Additional rumored but not confirmed dates include France (September) and Tokyo (Oct). All 2016 events were due to have been announced on December 1, 2015, so the official schedule may become clear shortly.
Read ACEA's Oman Press Release

---
Louis Vuitton America's Cup World Series Bermuda
(Oct 18) Challengers and the defender competed in AC45 catamarans this weekend in Bermuda, racing their foiling yachts for the first time in some of the same waters that will host the 35th Defense of the America's Cup, coming in June 2017.
Practice racing during the week was followed by three fleet races on Sunday, with Saturday's races canceled.
Friday, Oct 16: Practice Races
Saturday, Oct 17: Races Abandoned
Sunday, Oct 18: Three Fleet Races.
Winners: Oracle Team USA in Race 1, Artemis Racing in Race 2, and Emirates Team New Zealand in Race 3. Artemis Racing wins the regatta overall, with ETNZ remaining on top of the ACWS points standings.
See Bermuda Race Results
More: Bermuda Race Area | ACWS Standings

---
Louis Vuitton America's Cup World Series set for Chicago in June 2016
(Sept 15) America's Cup officials and local hosting groups announced Tuesday that the America's Cup World Series is coming to Lake Michigan in 2016. Chicago's Navy Pier will host the foiling AC45 catamarans June 10-12 in a weekend of fleet racing as the build-up to the 35th defense of the America's Cup in 2017 continues. The ACWS regattas help determine seeding and bonus points for challenger selection.
Team bases and the America's Cup village will be centralized on the quarter-mile-long public pier, with the cats racing in freshwater for the first time. Local sponsors including financial marketplace CME Group, intent on raising Chicago's visibility to the global tourism audience, have been very supportive of the upcoming event, the only currently scheduled stop in the US for the 2017 America's Cup cycle.
Read ACEA Press Release | Race Course Concept

---
Prize Giving for Portsmouth 2015
(July 26) With the cancellation of Sunday's racing, Land Rover BAR topped the podium in Portsmouth, England. The Duke and Duchess of Cambridge were on hand to award prizes to the teams. Click image above to see more photos.

Land Rover BAR Wins Louis Vuitton America's Cup World Series Portsmouth
The British challenger won the weather-shortened Louis Vuitton America's Cup World Series Portsmouth, the first regatta in the run-up to the 2017 America's Cup. Sailing on AC45F catamarans modified with foiling daggerboards and rudders, the contest was the first foiling fleet racing since one-design multihulls were adopted for ACWS.
Thursday, July 23: Exhibition Races See Thursday Photos
Friday, July 24: Practice Races
Video from Emirates TNZ | Land Rover BAR
Saturday, July 25: Racing: Races 1 and 2 Complete
Sunday, July 26: Racing: Races 3 and 4 Abandoned
See Prize Giving Ceremony Photos
Regatta Information: Schedule | Race Area
Where to Watch: TV and Online Providers
More Photos:
AC45F Preparations | Spinnaker Tower Views
New: Inside the Emirates Team New Zealand Base
Race Day Images: Groupama | Cat Sailing
---
Majority Votes to Switch 2017 America's Cup to Smaller Yachts
Luna Rossa Withdraws from Event,
ETNZ Questions Changes
(Apr 2) America's Cup organizers have adopted a plan to change from the 62-foot yachts announced last year for the upcoming match, substituting new yacht between 45 and 50 feet long, with substantial one-design components.
The changes were made without unanimous agreement of all the currently six entered teams, some of whom agreed with the goals but objected vigorously to the process employed. The change in yachts, halfway through the design cycle of the AC62 yacht, has the effect of discarding development work already performed. The vote also keeps the Qualifying and Playoff regattas in Bermuda, despite earlier discussions that appeared to commit to Qualifiers in New Zealand. The justification provided for the changes is a lower financial threshold for additional prospective teams, possibly inducing new entries from Europe and Asia to join up.
A new class rule for a 48' multihull (pdf, 907KB) has been posted, with an apparent one-design hull and wing shape, and the amended Protocol is expected to be issued later this week.
Read ACEA Press Release | Peter Melvin on Rule
Emirates Team New Zealand objects to the venue changes that are linked to the rules amendments, which will cancel plans to holding the America's Cup Qualifiers in Auckland in 2017. Without the Qualifier regatta, the NZ government's funding of approximately one-third of the team's budget is in doubt. ETNZ has applied to the yet-to-be-appointed America's Cup Arbitration panel for review: NZ Herald | Reuters
Italy's Luna Rossa, a challenger entry five times since the year 2000, as it had previously warned withdrew from the event in protest over the changes:
Luna Rossa Statement | Story at Reuters

---
Move is on to Shrink America's Cup Yachts to Cut Costs
(Mar 25) Commercial Commissioner Harvey Schiller confirmed Wednesday that there is a movement by America's Cup organizers, seeking consensus among the teams, to hold the 2017 event in smaller boats closer in size to the AC45s instead of the 62-foot foiling cats announced last summer, themselves reduced from the 72-foot AC72s raced in 2013.
"We have a responsibility to think of what is best for the long term health of the America's Cup as well as improving the value equation for team principals and partners," Schiller said. "Racing a smaller boat in 2017 and beyond is a big step in the right direction. The existing operational costs of teams is much too high with a boat like the AC62."
Read ACEA Press Release
Update Mar 26: The proposal is being met with objection by Luna Rossa, who threaten to withdraw from the event if the change is made:
Team Statement | AP story at Boston.com
Update 2: Emirates Team New Zealand, after supporting Luna Rossa's position, was reportedly told Auckland has lost their chance to host the America's Cup Qualifiers, a move which in turn would jeopardize government funding for ETNZ, according to the New Zealand Herald. However, ETNZ disputes aspects of the report: See 3news.com.nz and tvnz.co.nz
Update 3: (Mar 27) Russell Coutts explains to Scuttlebutt
---
35th America's Cup is set
for June 2017 in Bermuda
From NYC Announcement Dec 2. 2014:
- Bermuda will host the America's Cup Match in June 2017.
- Two additional teams are interested in challenging, currently in discussions with organizers.
- Red Bull will again sponsor the Youth America's Cup.
- No new details yet on AC62 events preceding the America's Cup match. Chicago to host an ACWS in 2016.
- There has been "significant interest" from television, based on 90-minute two-race broadcasts.
- Looking for sponsor to support ACWS and challenger selection, announcements forthcoming.
Kevin Shoebridge, CEO, ETNZ: "We worked pretty closely on both options.... [Bermuda] is a fantastic sailing venue, I think there'll be absolute engagement by all the Bermuda public.... We're going to go back and work with our sponsors and the government to make sure that we're there."
Stories: Bermuda to host Cup: Reuters | AP | NY Times
ETNZ: Funding Questions | Regatta in Auckland?
Bermuda Bound:
Media Presentation Replay (59:55)
Also: See Bermuda video (1:56) from the announcement with renderings of proposed America's Cup Village

---
San Diego's Bid for 2017
(Jan 15) John Laun, now Commodore of the San Diego YC, was at the center of the city's effort to bring the America's Cup home. Laun talked with Diane Swintal about the effort to land the Cup, his experience dealing with ACEA, and the feasibility of hosting foiling catamarans inside the SoCal city's harbor:
"We knew that San Diego was being labeled a 'light wind venue' and I suppose next to San Francisco, we are," Laun said. "But we had historical weather data from a weather station on North Island indicating that the breeze was very reliable, which is critical for TV broadcast schedules -- more than eight knots 91 percent of the time during the broadcast window. Jeff Brown put a weather station on a boat in the middle of the race course for two weeks so we had data that could be used to calibrate the years of weather station data to actual course conditions. Julian di Biase from ACEA and the Oracle weather team analyzed all that data. From our standpoint, we had everything we needed to host a successful America's Cup."
Read conversation with San Diego's John Laun
---
A Brief History of the Challenger of Record
(July 28) Since 1970 there have been 13 matches with multiple challengers, with 12 teams serving as the initial Challenger of Record (COR). Historically, one-third of the original COR's have resigned their position. Including the upcoming 35th Defense of the America's Cup scheduled for 2017, the initial COR has resigned four times; three times also withdrawing from competition, and one time remaining a challenger.
Read more at CupInfo, including a table listing all CORs since 1970
---
(Dec 15) The story of sailing for the 2013 America's Cup is told in a new 224-page book, from McGraw-Hill/International Marine. Winging It focuses on the sailing and racing of the 34th America's Cup, including selecting the AC72 yachts for the event, the races of the Louis Vuitton Cup, and the epic America's Cup Final that featured a stunning comeback and gut-wrenching loss. Authors Diane Swintal and Robert Kamins covered the event in San Francisco for CupInfo, and Steve Tsuchiya witnessed the match on the water from start to finish.
Read more at the Winging It book website

---
2013 America's Cup Highlights on CupInfo:
ETNZ/Oracle Team USA statistics for Boatspeed, VMG, Leads, Gains, Winds, Speed Maps, and more.
Updated through Race 18: See CupStats
Also: Daily Race Coverage | Race Results
America's Cup 2013: 34th Defense: The Basics
Rules: A Basic Guide to America's Cup 2013 Rules
The Boats:
AC72 & AC45 Cats | New AC72's Launched
Track AC72 Sailing Days | Wind Limits: Some History
Foils that Re-Shaped the America's Cup:
Part 1: Pete Melvin | Part 2: Gino Morrelli
Optimizing America's Cup Cats: Andrew Mason

---
America's Cup Match 2013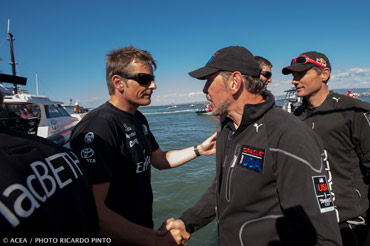 Larry Ellison and Dean Barker as the two teams shake hands following the Match. Ellison, Spithill, and Oracle crew had the highest praise for the skill and toughness of their opponent. Photo:©2013 ACEA/Ricardo Pinto.
From Stuart Walker at The Independent: "There have been several races going on. One was on the San Francisco Bay track. One was in the design offices. The third is the management game, without which no America's Cup team will be successful. Both teams were in the lead in all three at one time or another but the Americans were in the lead when it mattered, at the finish." Read More
More Post-Match Stories:
Oracle Completes Voyage to History: NY Times

"Team New Zealand Have Made Us Proud": NZ Herald

"Team New Zealand did such a bloody good job that I'm sure the whole world feels for them": Reuters
How Oracle Did It: Wall Street Journal

A Gripping Spectacle: Reuters

A Big Win: Kimball Livingston

Bob Fisher "Let It Be": Yachts&Yachting

SFGate: Host Again? | Thousands Line Waterfront
ETNZ's Future: Washington Post

At the Golden Gate YC: NY Times
Quotes of the Final Day:
Ray Davies, Tactician, ETNZ: "They had to sail well to beat us today, and they did. ...We feel like it's been a tough regatta. We were going well. We were getting all we could out of the boat. We had it optimized at the beginning of the regatta. We couldn't do much more with it, we were really happy with the boat and equipment we had. The Oracle boys just found another couple of gears through the regatta. Hats off to them, they did a fantastic job. We've had incredible support network within the team. The guys have really really worked hard the whole way through. Everybody's really proud to be part of the team and the effort that's gone in."
Dean Barker, Skipper, Emirates Team New Zealand: "We went out there today to give it our absolute best shot, and we felt we didn't leave anything on the table. We got a good start, led around Mark 1, led at the bottom, and that's all we could ask for. We knew that upwind we had a fight on our hands. When they are sailing a boat that's going that fast, it's very hard to swallow."
Dean Barker: "I am incredibly proud of our team and what we've achieved. I'm gutted that we didn't get the last win that we need to bring this cup back to New Zealand."
Matteo de Nora, Emirates Team New Zealand: "I've never been more proud to be part of this team, and I've never felt more Kiwi than I feel today."
Jimmy Spithill, Skipper, Oracle Team USA, about his competition ETNZ: "Man, they are a tough team, they are a champion team."
Recommended Post-race press conferences with both teams on America's Cup YouTube Channel
---
America's Cup 2013 Complete Match Coverage, Race Reports, and Photos: See all on CupInfo's America's Cup Match Main Page or jump to content below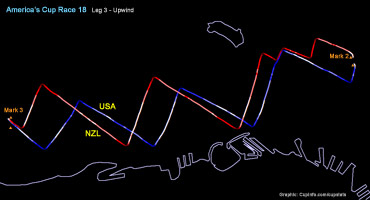 Click image to view Race 18 Speed Maps at CupStats
Previous Races:
Races 1-2 (Day 1):
Race Reports and Preview | Post-Race and Quotes
Races 3-4 (Day 2):
Race Reports and Preview | Post-Race and Quotes and Photos: Chris Cameron/Gilles Martin-Raget
Race 5 (Day 3):
Race Report and Preview | Post-Race
and Day 3 Photos from Jan Pehrson
Races 6-7 (Day 4):
Race Report | Quotes of the Day
Race 8 (Day 5):
Race Report
Races 9-10 (Day 6):
Race Report | Quotes of the Day
Day 6 Photos from Chris Cameron
See Day 6 photos from Jan Pehrson
Day 6 (Races 9 and 10) Quotes:
Dean Barker, Skipper, NZL: "I think if you didn't enjoy today's racing out there, you probably should watch another sport."
Ben Ainslie, Tactician, Oracle Team USA, on the final run downwind in Race 10: "We elected to go behind them and try to set up where we might be able to get a piece on starboard when they gybe back, and it's really hard to judge that right when you're going along at almost 40kts, but we didn't do too bad of a job. But it wasn't quite enough to get back into it."
Read more Day 6 quotes
Day 7 (Postponed):
Photos from Jan Pehrson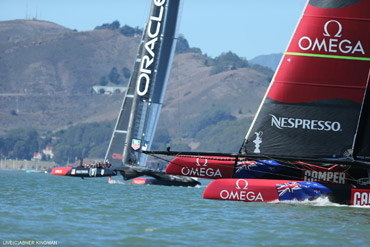 Day 13, ETNZ chasing. Click image to view large.
Photo:©2013 ACEA/Abner Kingman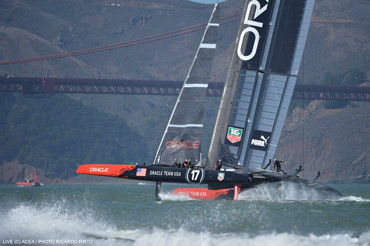 Oracle had upwind speed on Day 14. Click image to view large. Photo:©2013 ACEA/Photo Ricardo Pinto
Data and Analysis: Boatspeed, windspeed, True-Wind-Angles, SOG/VMG Polar Plots for both boats, leads/gains, and more: Visit CupStats at CupInfo