The America's Cup World Series (ACWS) for 2011-2012 consists of several regattas in multiple countries.
In general the format will feature an opening weekend of fleet races followed by an ACWS Match Race Championship over four days, and finishing up with an ACWS Fleet Racing Championship on the final day of the regatta.
ACWS Phases, Plymouth, England: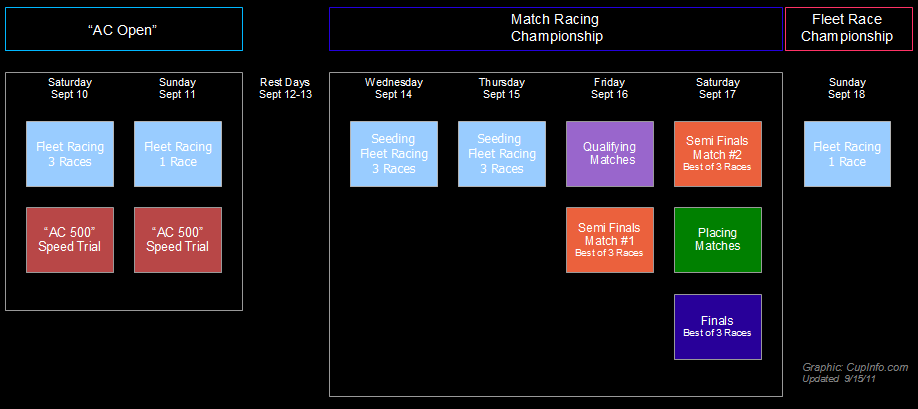 See Friday and Saturday below for details of Match Race Brackets and Qualifying.

Update Sept 11: The schedule in the Sailing Instructions for the Match Race Championship has been amended. Wednesday's and Thursday's Fleet races have been modified, to consist of one 40-minute fleet race and two 20-minute fleet races each day. Friday and Saturday consist of match races seeded based on the standings of Wednesday's and Thursday's fleet races. This new schedule allows for greater participation in match racing, and increased exposure on Saturday for more teams.
Originally, the first three days of the Match Racing Championship consists of daily fleet races followed by daily match races. The top six competitors based on these results qualify to compete in single elimination Quarter-finals and Semi-finals, followed by a three-race Match Race Final. The top 1 and 2 qualifiers advance directly to the Semi-Finals, while qualifiers 3, 4, 5, and 6 must win in the Quarters to advance. See diagrams below.
In ACWS #1 in Cascais, in August, the AC 500 trial was moved to the opening Sunday from Saturday. The ACRM schedule issued in July for Plymouth, before the Cascais event, initially showed the speed trial on Saturday. As it turned out, ACRM held a time trial on both days.

Basic Format:
First Saturday and Sunday:
AC Open: Fleets races will be sailed on the Opening Weekend, along with the AC 500 Speed Trial following the Fleet Racing.

Monday and Tuesday:
Rest Days, no Racing.

---
AC Match Race Championship: Seeding via Fleet and Match Racing
Fleet Racing: Wednesday, Thursday
Three Daily Fleet Races (Modified Sept 2011):
Three Fleet Races are planned, the first 40-minutes in length and the second and third to be 20 minutes, with 10-minute breaks between races. The results of the Fleet Racing set up seeding for match racing Friday and Saturday.
This format is modified from the original plan issued for Plymouth that followed the outline of the ACWS in Cascais and included both Fleet Races and Match Races Wed-Thurs-Fri.

Match Racing Friday and Saturday: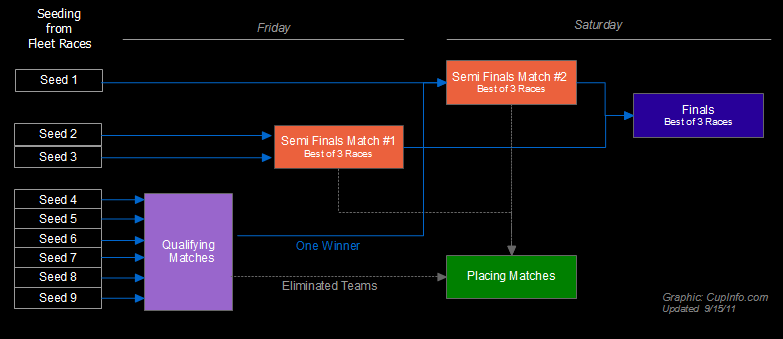 See Friday below for details of Qualifying Pairings.
Friday:
Qualifying and Semi-Final Match 1
Five Qualifying Match Races (Seeds #4 through #9, based on Wednesday-Thursday results) determine which team will advance to face the #1 Seed the Semi-Final.
Details of Qualifying Round Pairings: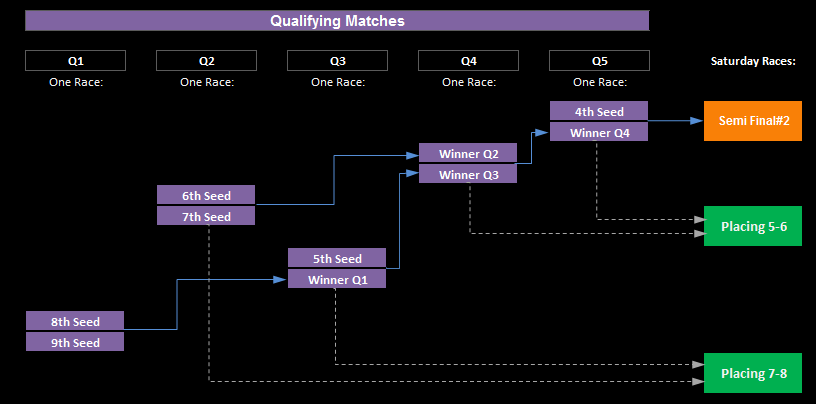 Semi-Final Match #1 (Seeds #2 vs. Seed #3).
All Match Races are planned to be 18-minutes in length.
Qualifying and Semi-Final: 5-minute breaks between most races.

Saturday:
Semi-Finals Match 2, Placing Matches, and Finals.
The second Semi-Final Match pits the winner of the Qualifying Round against the #1 Seed.
The Placing Matches allow the losing teams from the Qualifying and Semi-Finals to sort out final placings.
The winner of Semi-Final Match 2 faces the Winner of Semi-Final Match 1 from Friday in the Final.
All Match Races are planned to be 18-minutes in length.
Semi-Final, Placing, and Final: 5-minute breaks between most races.

---
Sunday:
Fleet Race: AC World Series Championship Plymouth
One 40-minute fleet race will be held. Points from finish position in this race are carried through for a Season Fleet Race Championship.

---
Additional Links and Info:
Visit Official America's Cup website

---